My preschooler and I had talked about what to make for the preschool Valentine's day party for her friends. I gave her several choices and she really wanted to make her classmates homemade playdough. I found these perfectly sized containers at our local dollar store. We decided to make the kids red playdough for Valentine's day. I figured why not make it more fun and make cherry playdough?
The playdough turned out awesome and smelled sooo good! In fact it smelled too good...my little one told me she was having a hard time not eating it and told me next time to just make plain playdough :).
We used the following recipe (adadpted from
How Does She
):
1 cup flour
1 cup water
1/4 cup salt
2 tsp. cream of tartar
1 Tbls. vegetable oil
1 package cherry kool-aid
Mix dry ingredients in pot first and stir well. Add wet ingredients and stir. Cook over medium heat stirring continuously until it forms a large ball. Remove from heat and dump out onto wax paper on your counter. When cool knead the playdough until nice and smooth and soft.
I wanted to come up with some cute little tag to put on the little container. Unbelievable to me that the container was the PERFECT size to fit the scalloped punch that we had at home. I went to work in Photoshop and made up a sweet little cherry printable.
All wrapped up and ready to go...pretty cute huh?
Someone's pretty excited to hand them out to friends.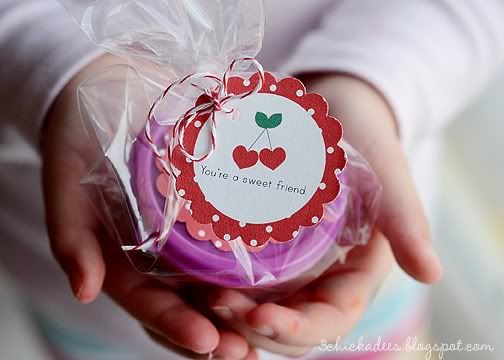 And here's my gift to you. Please enjoy these Valentine printables.
You're sweet Tags
You're a sweet friend tags
If you choose to download them I'd love it if you'd leave me a comment! Also if you use them I'd love to see a picture...leave me a link in the comments! :) Enjoy!