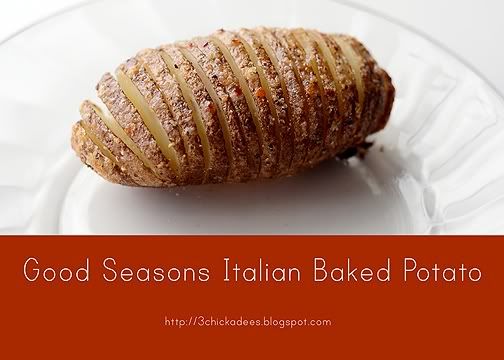 I made these delicious potatoes on Valentine's Day for my honey and I. Really easy and they look very fancy too wouldn't you agree? I was inspired by
this
pin on Pinterest.
Here's my super simple recipe
2 medium sized potatoes
2Tb melted butter
1/2 Tb Good Seasons Italian Dressing
Preheat oven to 425 degrees. Thinly slice your potato being careful not to cut all the way through. Place potatoes in oven safe cookware. Mix your butter and Good Seasons Italian Dressing. Drizzle over the sliced potatoes. Bake at 425 for 40 minutes.
The thing I loved most about these potatoes was some of the edges get kind of crispy! Loved that! These turned out great and had just the right amount of flavoring. Enjoy!